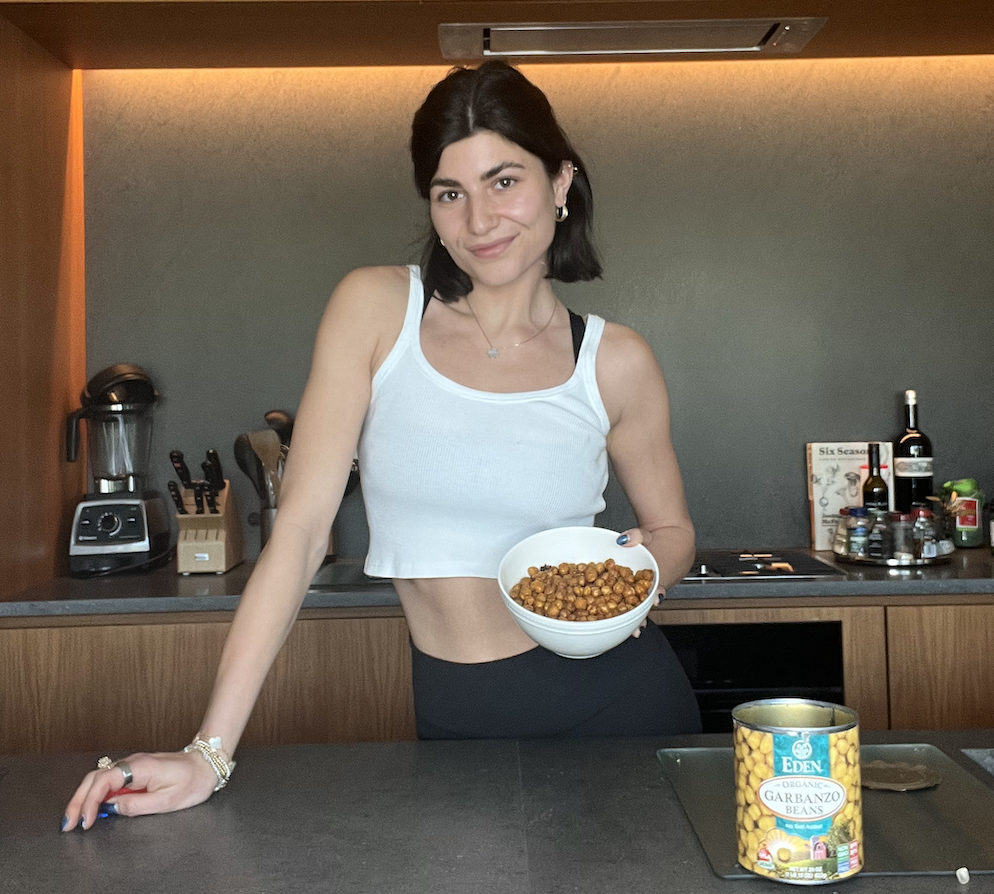 Crispy chickpeas are one of my favorite snacks – they are crunchy, healthy, and feel light but are actually pretty consistent. They are great to have around the house for snacking, sharing with friends, or for adding to recipes like soups / salads / bowls. 
They are best eaten fresh, as that is when they are most crunchy – however, they are good for up to 4-5 days. Please store in an air-tight container.
Ingredients: 2 large cans of chickpeas, olive oil, salt, spices (I use: smoked paprika, garlic powder, chili flakes but you can add / replace with any spices you like)
Appliances: oven, oven-safe tray or dish, baking sheet (optional)
Time: 30-35 minutes – prep time: 5 min, cooking time: 25-30 min
Process: 
Preheat oven to 425 Fahrenheit / 219 Celsius 

Open chickpea cans and remove all liquid from inside

Place chickpeas on a dry washcloth, dry them well with another washcloth or paper towels

Once dried, place chickpeas on an oven-safe tray with lined with a baking sheet (dry the chickpeas again once again now if you want extra crispiness) 

Drizzle olive oil over all the chickpeas and mix. The more olive oil you add, the crispier they get. 

Add salt and any additional spices you choose 

Place chickpeas in oven for 25-30 minutes, checking on them occasionally 

Remove chickpeas from oven

Place into a bowl and enjoy!
Share feedback and photos of your Crispy Chickpeas with us: hello@be-linea.com